Most people want to know where we got the idea to just head off into the sunset in pursuit of traveling PT jobs.
This past summer we (Josh and I...this is Kate writing) went to Huntington Beach in SC with my family. We went for a long walk along the coast, out to a jetty that my family always makes a point to go out on when we're there camping. Sitting there, soaking in the sun, it just hit me that it could be a possibility.
So I asked Josh "What if we traveled together in a few years? As PTs?!" He immediately shut me down. It was crazy....we had a dog....we liked Charlotte....I had a great job....he was going to be a new grad. We talked about it, and there were a million reasons NOT to do it! But over the next few months, it kept coming up.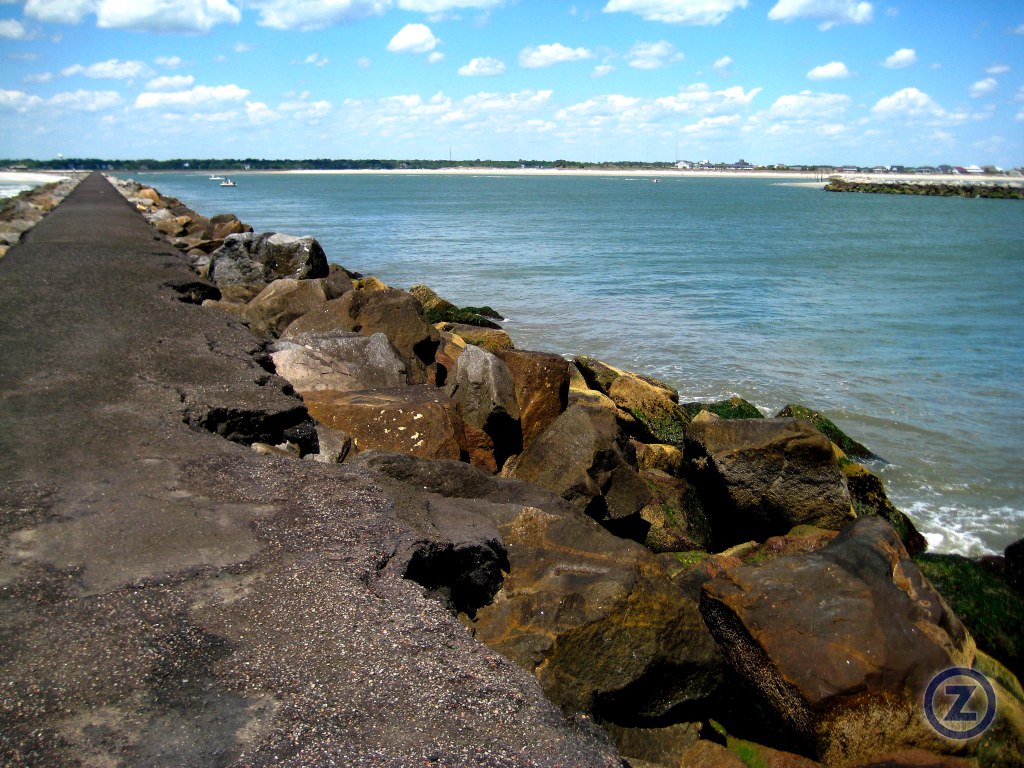 The jetty where we had the initial conversation about traveling.
Eventually it got to the point that we both knew it was something the Lord was calling us towards. Both of us have such a heart for adventure and travel. We both love a challenge. But talk about going way outside of our comfort zones! It became the most exciting and nerve-wracking idea we've yet had.
When our rental agreement for our house in Charlotte unexpectedly fell through, we knew that now was the time. So after MUCH prayer, we decided to go for it. I gave my notice for my job - my "dream job" as I have called it since I was a student there 2 years ago - something that gave me several good cries in the following weeks.
In the time between deciding to go for it (mid-January) and actually getting a placement in Salem, Oregon (March 4th, the Monday after my last day at work in Charlotte), here are several things that I learned:
- I love to "have control" of situations. .....Like I actually do in the first place. Having the middleman of a travel agency searching for a source of income for you when you have a definite end-date to your current job is hard!
- Change is also hard. We put all of our belongings, minus what we thought we'd need in the next 2 years as we do this, in a storage unit. We sent our beloved dog Denver to "camp" with her grandparents in Greenwood. (Thanks again Mom and Dad!!!!!!!!) And we lived with dear friends in Belmont for a month as I finished up at work. Then we went to Greenwood and waited to leave.
- I can count on my husband, Josh. He talked me through several freak-outs during the transition. He prayed for me, for us, and for our future. He's truly a man of God and I am SO lucky to have him.
- I'm too young to be stuck in my ways. (But aren't we all?! Life is too short!) This is one of the key reasons that I knew that the Lord was behind all of this. He has a lot of great things in store for us in this process, and none of them allow us to stay as we currently are. Which, turns out, is fine by me. I have a lot of growing to do yet.
- The Lord is trustworthy. I guess my whole life is going to be a process of learning and re-learning this. A verse that stuck out to me during the transition was from Joshua 1: "Have I not commanded you? Be strong and courageous. Do not be afraid; do not be discouraged, for the Lord your God will be with you wherever you go." And also, from Matthew 6: "Therefore do not worry about tomorrow, for tomorrow will worry about itself. Each day has enough trouble of its own."
On Tuesday March 5th, 2013 we pulled out of the driveway in Greenwood, SC to begin the adventure.